Browsing articles in "Industry News"
Its been over 10 years since the debate of having .XXX as a top level domain (TLD) started and finally, ICANN has approved the ICM Registry's application to operate .XXX as a TLD. This decision was taken at the 40th ICANN Meeting at San Francisco earlier this year.
This single agenda has definitely generated the highest volumes of community comments than nearly any other issue ever faced within ICANN in the past.
The ICM Registry has been handed over the responsibility of operating the .XXX TLD provided there are improved and new benefits to the TLD.
All said and done, not everyone in the Adult industry has welcomed the .XXX TLD wholeheartedly. The Free Speech Coalition, a group sponsored by the Adult Entertainment Trade Association is against .XXX and the Registry's rulings.
The Sunrise periods (3) will be starting over the coming months.
Do you see .xxx as the next "big thing" in the domain market?
After revamping our website, the next interface that went under the LogicBoxes' design knife is our Domain Management Interface.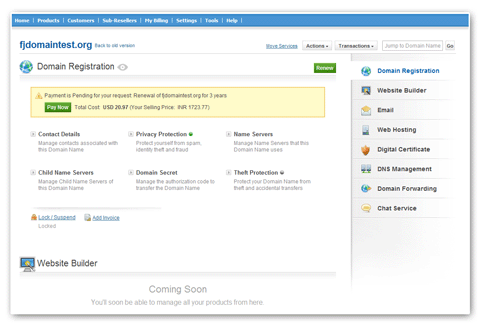 Being one of the most-frequented sections of the control panel, we decided to revamp this interface first. And with the new design, there are a lot of things that we've polished and improved – namely:
1. Easy access to all of a Domain's associated web products within the same page
2. Domain Contact Management has been made simpler
3. Locking and Suspension of Domains can now be done from the same place
4. Better visibility and handling of pending payments
5. Child Name Servers are relatively easier to create and change
6. Strategically located "Renew" button to help your customer renew easily
This is currently live in OrderBox and you can login to your OrderBox account to get a first-hand glance at the same today.
Have any feedback or suggestions on our new interface?
Do comment and let us know!
LogicBoxes announced today that it now empowers over 5 million domain names, through 50,000 resellers, across 90+ ICANN Accredited Domain Name Registrars, in 240 different countries.
With the domain name industry growing rapidly in the past 5 years, LogicBoxes has been a pioneer in providing domain registry and registrar solutions. Through its unique offering of a Registrar Automation Platform, LogicBoxes now powers over 5 million domain names across 50 top level domains (TLDs) such as .com, .org, .net, .info and several country code top level domain (ccTLDs) such as .ca, .nz, .uk (the ccTLDs for Canada, New Zealand and United Kingdom respectively).
Given the unique optimized products and services that LogicBoxes has to offer, the company has a strong foundation to leverage upon and attract the myriad community of registrars and resellers across various TLD and ccTLDs. Having crossed 4 million domain names in 2009, LogicBoxes took just one year to reach its next landmark of 5 million domain names. This record growth of 5 million domain names not only shows the company's zest but also its strong potential to grow further. This domain name count is expected to shoot even more with Logicboxes new upcoming projects one of them being the recent partnership with one of the world's leading Hosters – HostGator.
"I am proud of the fact that Logicboxes now powers 5.46% of the total domain names on the internet. In a short span of time we have been able to penetrate deep in the market and reach such a high point in our business. LogicBoxes will continue to launch new TLDs and ccTLDs on its Registrar Automation Platform to further strengthen its domain name portfolio and reach even bigger milestones." says Bhavin Turakhia, CEO & Founder of Directi.
He added "The key to LogicBoxes success is its Registrar Automation Platform which represents an ongoing research and technical development of over 8 years. Our in-house team invests a considerable amount of time and effort towards continuously adding new tools in our platform; enabling us to set industry benchmarks. The platform is so extensive that we are able to offer many more features and better services than our competitors at a cheaper price. We recently re-launched our website builder product with added features and functionality. We are also planning to launch SEO services sometime soon. Year after year we have launched several new products and features on our platform to stay one step ahead of the competition"
And in accordance with this philosophy, Bhavin will be introducing and giving a brief talk on "chat.pw: Enterprise chat for customers of web hosts" at WorldHostingDays 2011 in Germany next week. In fact, the LogicBoxes team will be present at WHD'11 between the 22nd and 25th of March. Sandeep Ramchandani, Director – Strategic Partnerships, will also be holding a session on "Demystifying ICANN accreditation" for all the service providers present at the conference. Do drop by our booth and say hello!
About
Covering a range of topics from ICANN activities to industry trends, the LogicBoxes Blog will keep you updated on events that impact your Registrar/Registry Businesses.

This Blog also serves as a single reference source for all our notices and announcements.


Subscribe via Email
Categories
Archives