Here are quick stats from Verisign's latest Domain Name Industry Brief.
The fourth quarter of 2011 closed with a base of 225 million+ domain name registrations across all Top Level Domains (TLDs). This amounts to an increase of 5.9 million domain names, or 2.7 percent over the third quarter.
The base of Country Code Top Level Domains (ccTLDs) was 90.6 million domain names. This is a 4.2 percent increase quarter over quarter, and a 13.2 percent increase year over year in the base.
.COM and .NET TLDs experienced aggregate growth, reaching a combined total of 113.8 million domain names in the fourth quarter of 2011. This represents approximately a 2 percent increase in the base over the third quarter of 2011 and an 8 percent increase over the same quarter in 2010.
There is no change in the order of the top 10 TLDs in the fourth quarter of 2011. The order is: .COM, .DE, .NET, .UK, .ORG, .INFO, .TK, .NL, .RU and .EU.
Total Domain Name Registrations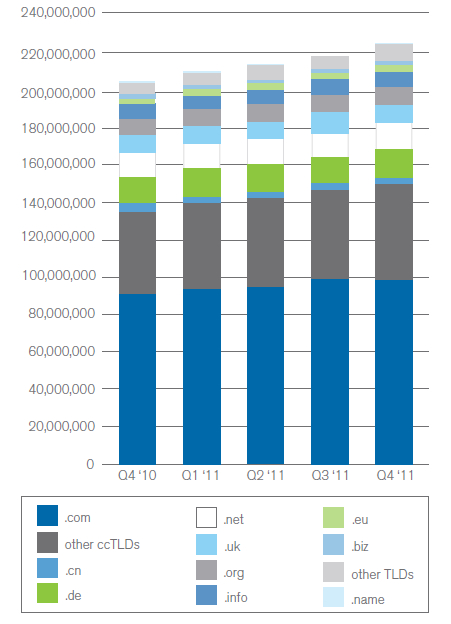 You can view the entire Verisign Report here.
Pic Courtesy: Verisign DNIB Report