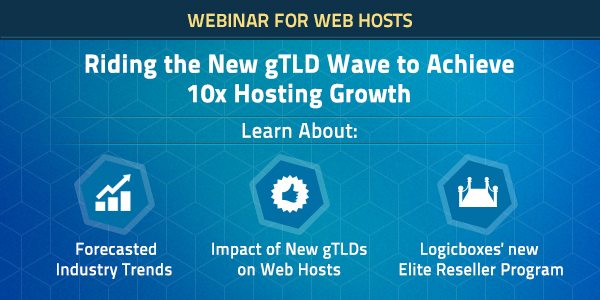 New gTLDs are here! And to equip web hosts to plan their future business activities better, we will be running a webinar titled 'Riding the New gTLD wave to achieve 10x hosting growth' on 11th Dec, 2013.
With a number of New gTLDs already in their Sunrise period and many more to be launched in the coming months, web hosts & domain resellers are best positioned to achieve phenomenal growth by making the right moves in the rapidly evolving New gTLD maze. We aim to help web hosts realize this growth through a new offering; the Elite Reseller Program, featuring a unique pricing model and comprehensive, personalized New gTLD strategy and technology solutions.
What you will learn?
The webinar will give insights on the following points:
• Forecasted industry trends
• The impact of New gTLDs on hosting businesses, the threats and the big opportunities
• LogicBoxes' new Elite Reseller Program designed for web hosts
Webinar Details
Topic: Riding the New gTLD wave to achieve 10x hosting growth
Date: 11th Dec, 2013
Time: 2:00 pm EST (7:00 pm UTC)
Presenter: Siddharth Taliyan, LogicBoxes
Seats for the webinar are limited, so secure a seat today and take advantage of this great opportunity!