While searching for a domain name, customers are always looking for something specific. However, it's not always easy to find that perfect domain name. When confronted with such a scenario, one option is to settle for a domain that roughly matches their needs, and the second is to walk away disappointed.
In the latter case, you've not only lost the domain sale but you've also lost the possibility of making additional sales of web presence products and services. To tackle this situation, you can offer Premium Domain Names to your customers, to prevent them from settling for the "leftovers".
Premium Domain Names are highly sought after domain names that have been registered previously and are back in the market for resale. Domain names of these kind are identified as premium strings by the registries and come with a higher perceived value than most, with heavy sale prices. These are short, easy to recall, keyword-rich names that you can sell for much higher prices than regular domain registrations; sometimes even for 6 or 7-figured amounts!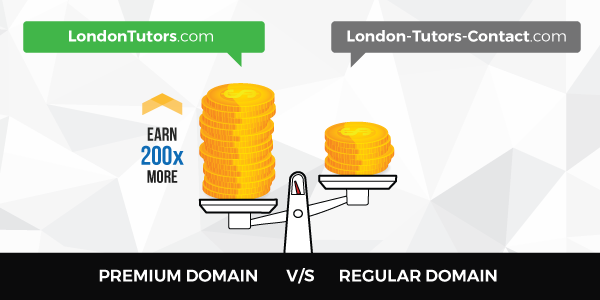 The Premium Domain Advantage
Premium Domains on an average sell for 200x more than unregistered regular domains. There are numerous well known reasons for a domain name to be considered premium. Since they are short and easy to remember, they have a higher recall value. They also help improve SEO rankings, increase direct type-in traffic and reduce PPC costs. A valuable premium domain conveys a sense of trust and confidence that in turn helps in attracting more traffic to your website.
Why Sell Premium Domains?
Drive Higher Lifetime Value: Customers who purchase premium domains also tend to buy more services such as Hosting packages, SSLs and other products thereby increasing customer stickiness.
Gain a Competitive Advantage: Offering this product helps you to stand out in the market since this product is not available with many other domain providers
They are High-Margin Products: For every premium domain sale through your account, you make up to 25% of your list price
Get your customers to buy domain names they prefer! Got questions? Feel free to reach out to us at partner_relations@logicboxes.com.