We've revamped the 'Branding Settings' interfaces on the Registrar and Reseller Control Panels.
Earlier text-heavy pages have been given a cleaner, crisper and lighter look. With this new design, we've clubbed all branding-related tasks under one central section. Further sub-sections can be easily accessed by a navigation bar on the left.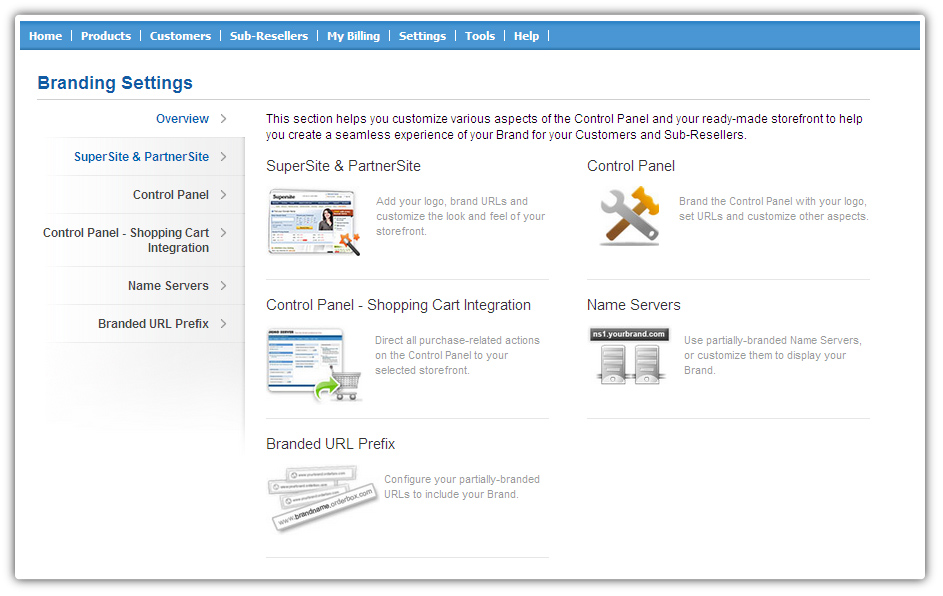 We have clubbed these existing branding-related sections into one global space:
SuperSite and PartnerSite Branding
Control Panel Branding
Control Panel – Shopping Cart Integration Settings
Name Server Branding
URL Branding
Ed's note: Yes, OrderBox is very customizable 😉
Our main focus has been on simplifying the branding tasks by:
Providing visually descriptive screenshots/icons to explain branding functions
Revamping architecture of pages for Registrars and Resellers so that they can easily navigate to all branding tasks
Simplifying and organizing functions into short easy steps
Creating no-frills interfaces, with only necessary information to perform tasks
Providing descriptive help information for better guidance
This is now live in OrderBox!