Almost every business has been through a phase where leads dry up, sales numbers stumble downward and new opprtunities are few and far between. Times like these can be the perfect situation for you (a Registrar, Registry or Reseller in the domain business) to spread the red carpet for existing customers and further increase their stickitivity.
At such times, implementing strategies that focus on domain renewals can be a great way to ensure that your topline isn't affected too much in a bear market environment.
Our first, free whitepaper provides more information on how existing Registrars and Registries take advantage of Renewal-focussed strategies. And it also summarizes 4 easy steps that You can follow to improve your Renewal Rates. (click image to view)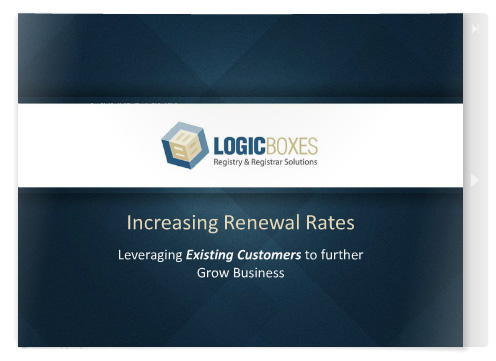 What strategies do you employ to increase revenues from existing customers?
If you have any queries about this whitepaper, feel free to mail us at marketing (at) logicboxes (dot) com